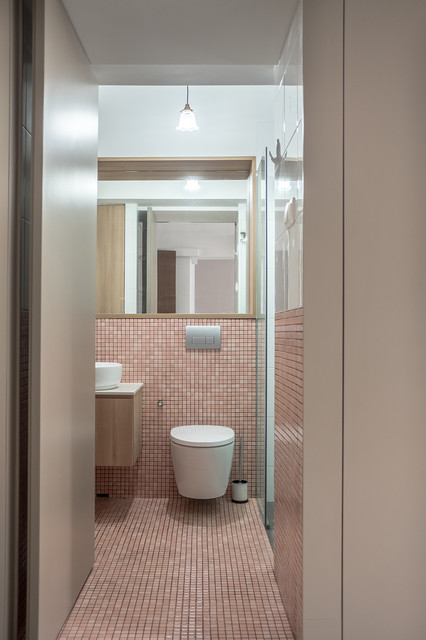 Cantonment Close
The design savvy clients, one of whom was formerly educated in art, had many specific requirements for the design of their HDB resale flat, including taupe-coloured walls for the master bedroom and pink mosaic tiles for the bathroom. Thus, the project was carried out in a collaborative manner; Studio Myte lent their expertise in spatial design, material selections and design detailing, while making sure to keep the home as a "blank canvas" on which the clients could fill with their own choice of furniture, various artefacts and paintings they have collected, as well as their extensive indoor plant collection.

Keeping to a modest renovation budget, minimal changes to the original layout were proposed, while maximising spatial impact.

The large green feature wall was proposed not just as a decorative feature wall, but as an attempt to visually unite the living and dining area which would otherwise be read as two incongruent spaces due to the unusual flat layout. This visual continuity enhances the perceived size of the space, and is further enhanced by introducing a glass door into the study.

In the master bedroom, the space was designed to be kept simple by concealing the entrance into the master bathroom within the wardrobe. Once opened, the concealed door reveals a visually impactful bathroom covered in pink mosaic tiles.
What Houzz contributors are saying:


Chiquit Brammall added this to Houzz Tour: Thoughtful Design Sets the Scene for Art in This Flat
18 November 2019
"One interesting feature is the concealed entrance into the master bathroom that we designed as part of the master bedroom wardrobe. Concealing the bathroom entrance allowed for a clean, continuous wardrobe; otherwise, it would have been broken up into two separate segments, making the space feel much more cluttered. We also managed to create additional storage space above the doorway – and that's always a plus", Tang says.Tell usWhat do you love about this home? Tell us in the Comments. And don't forget to save your favourite images, save the story, and join in the conversation.
Bathrooms with Similar Colours